Tools, crafted precisely for your on-screen tasks.
Use each tool independently or combine them for maximum power.
Lens

Ruler

Frame

Guide

Monocle

Crosshair
Across the Desktop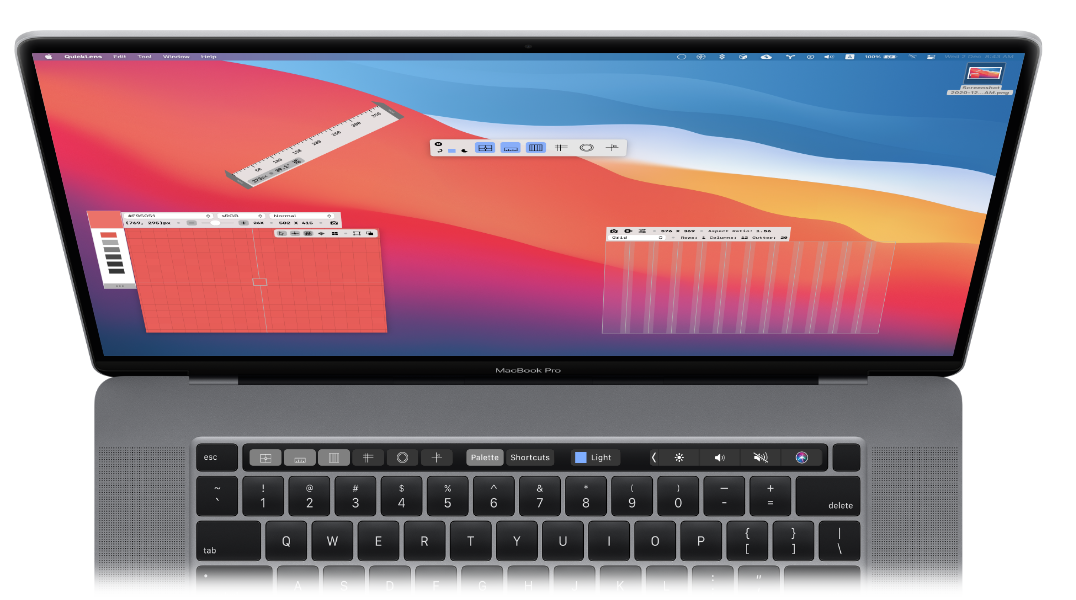 All tools work at the Desktop level, on any Application or across Applications. This is a deliberate design choice that allows maximum exploration 🚀.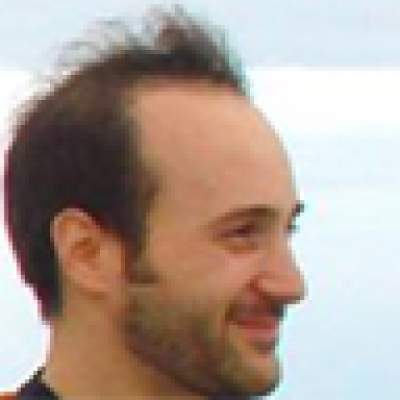 Luke Hamburg
Front-end Developer & Mac Enthusiast
New York
QuickLens is the answer to all your pixel-perfect measurement, inspection & alignment needs! Completely overhauled for modern macOS Catalina/Big Sur and faster than ever. A thoughtfully designed swiss army knife that you didn't know you needed — but quickly becomes a go-to tool you can't live without.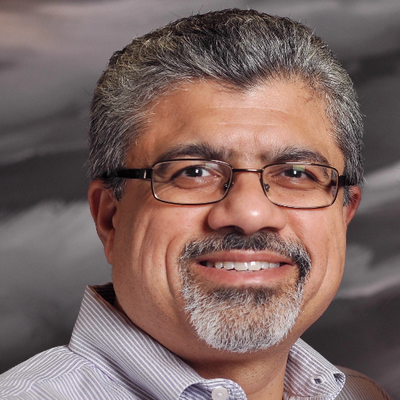 Naresh Bhatia
Front-end Architect, Musician
Boston, Massachusetts
As a front-end developer, QuickLens has become an indispensable tool in my toolkit. Whether I am building a component from scratch or trying to follow a design, QuickLens helps me sample colors, measure distances and check alignments without jumping from tool to tool. I don't think I can go back to my old ways of doing things.
Lens
Arguably the most powerful tool in the suite, Lens is perfectly suited to view your designs up close
Zoom into details
Get closer to those UI details with zoom levels upto 64X.
Sample Colors
Pick colors from the desktop and maintain palettes. You can pick colors individually or from an area.
Export them to an HTML color sheet or to JSON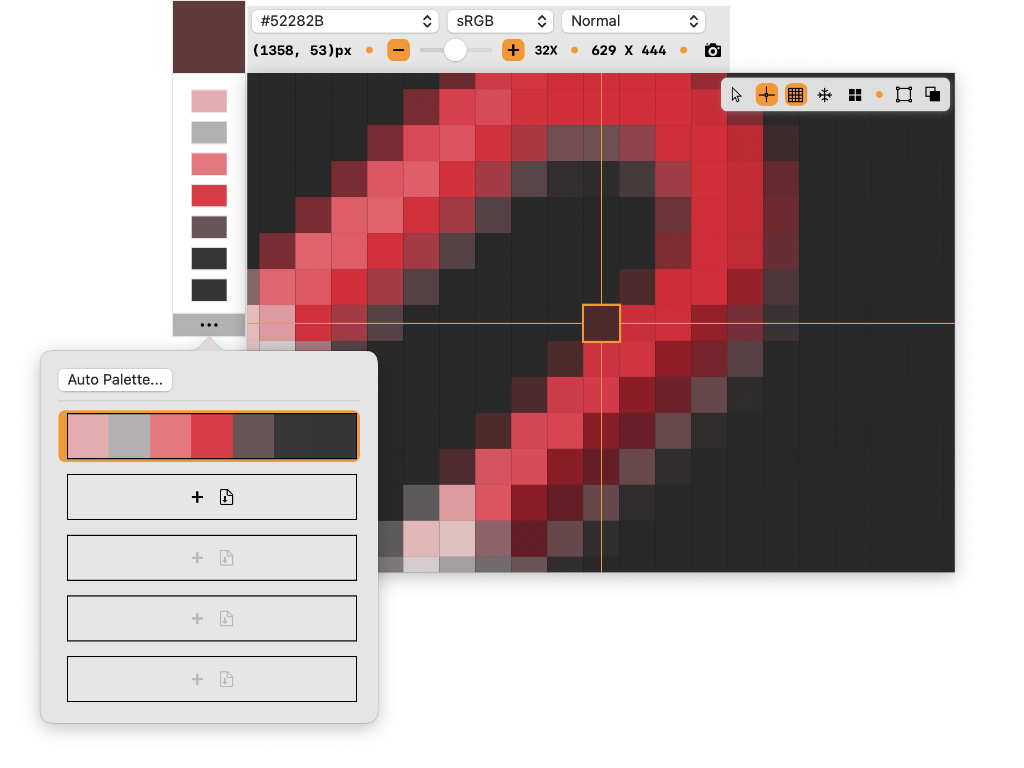 Color formats, profiles and simulations
View your colors in multiple formats or switch color profiles.
You can also simulate color-blindness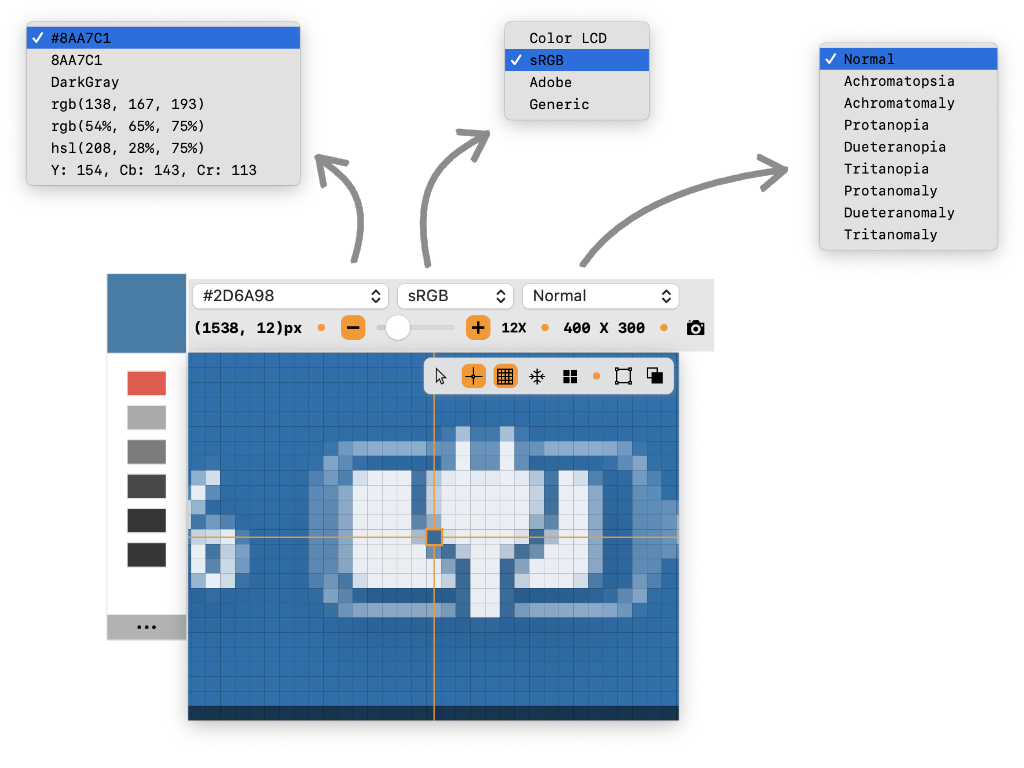 Check Color Contrast
Do real-time Color Contrast and readability checks of your palette colors against a background. Go for the AAA rating!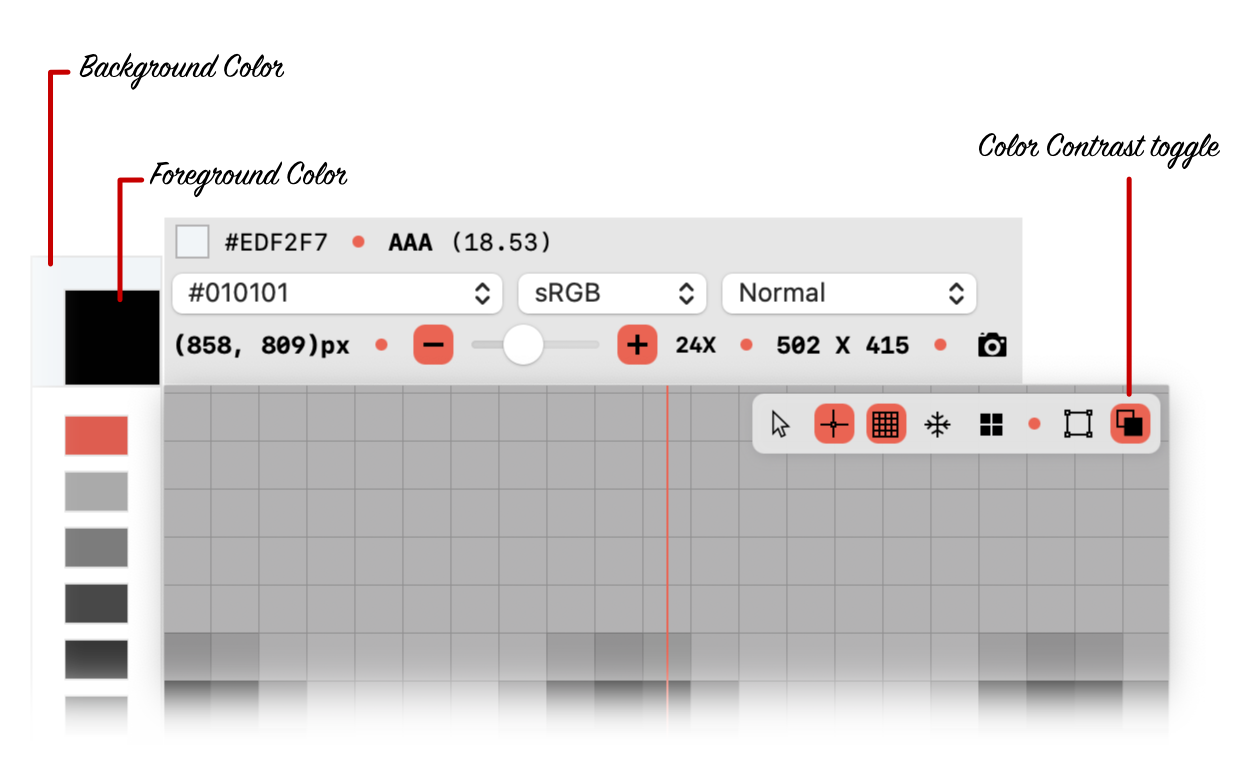 Get precise measurements
Want to know the size of the icon? Find out using the built-in pixel area measurement.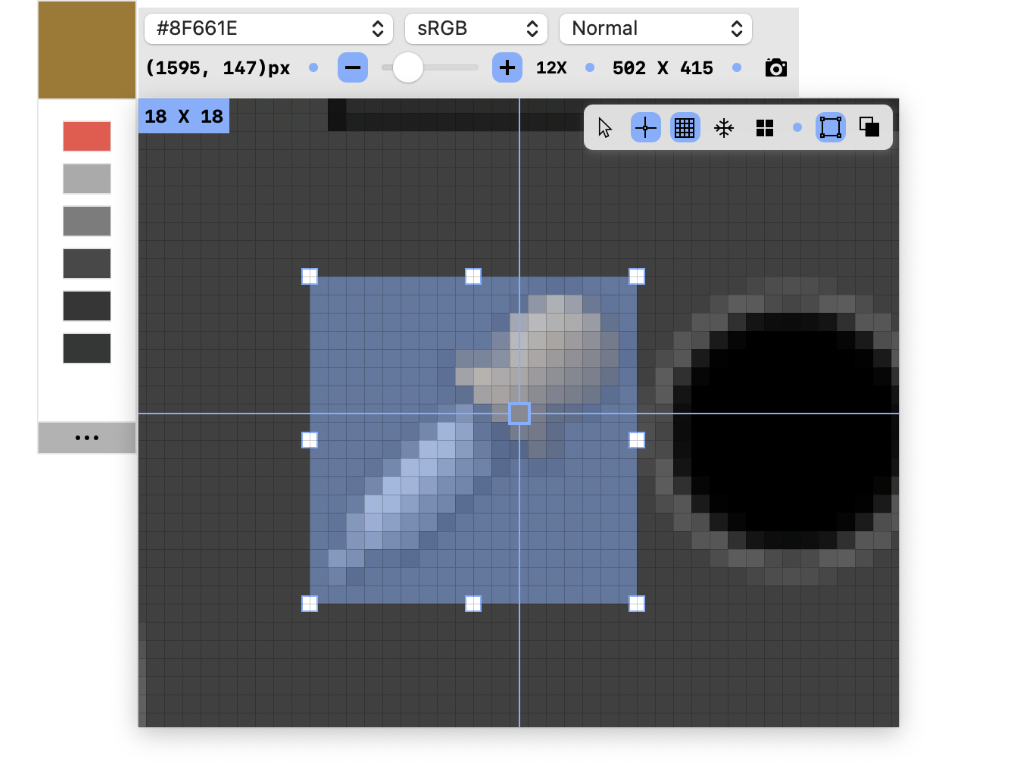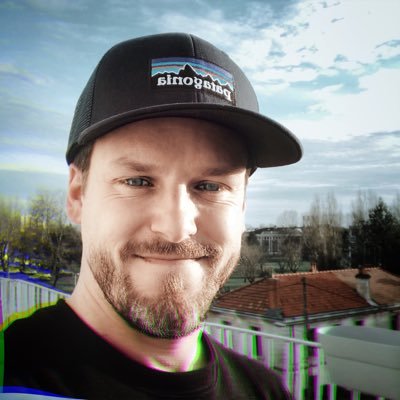 Robert Felker
Generative Artist, Flutter Developer
Bordeaux, France
QuickLens is so good it is in danger of being sherlocked. Oh wait, it is too complete to be copied! I use the palettes and pixel peeping features at every creation step to ensure precision. Used with the wide-screen, I can concentrate on the process and check all details at the same time! New features are coming fast too so I can integrate it more quickly with my code. I can't work without it now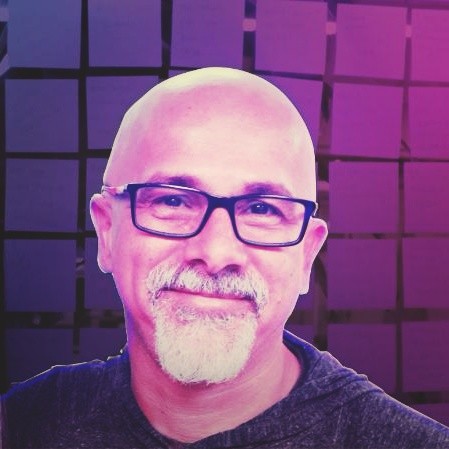 Marcelo Paiva
User Experience Manager, Accessibility & Design Systems advocate
Miami, Florida
There are many Dev and UX tools, but QuickLens takes this category to a new level. It's like a Swiss army knife. The Color-Blindness simulation checks for Color Accessibility and the color-picker works perfectly with the 64x zoom-level and for visual QA. But my favorite has to be precision of the Screenshot Capture.
Ruler
Measure verticals, horizontals or lines at any angle
Distances and angles
Lines, obliques? No problem! No length or angle can escape the mighty Ruler.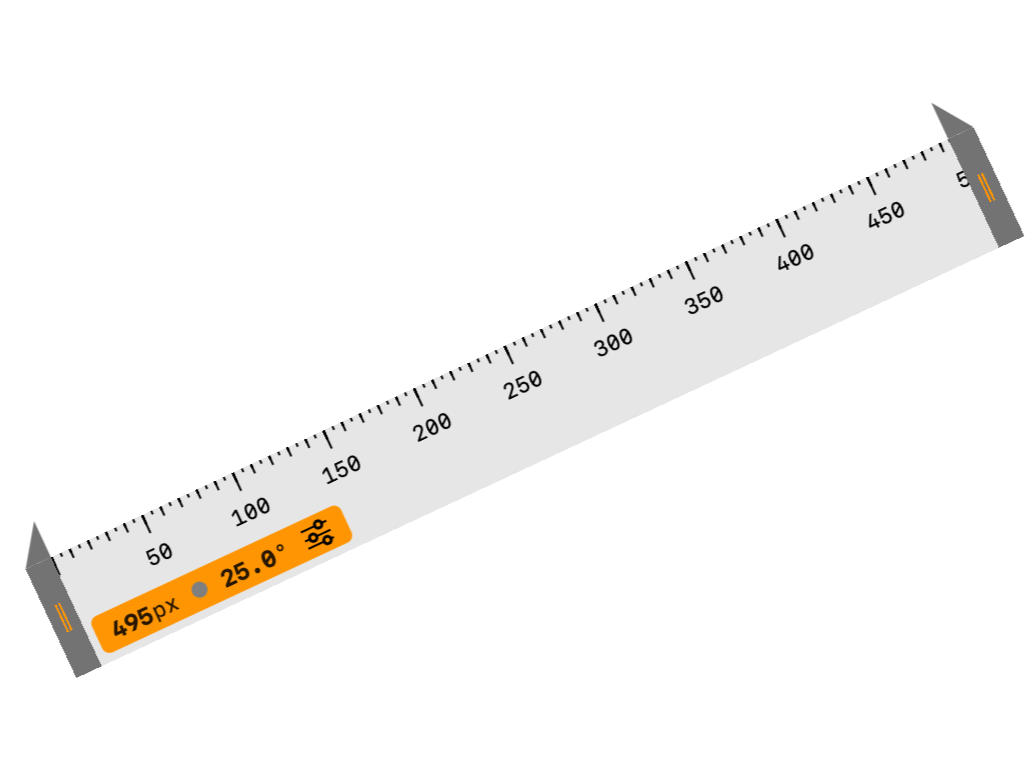 Units
Measure in pixels or in inches, centimeters or millimeters. See angles in degrees or radians.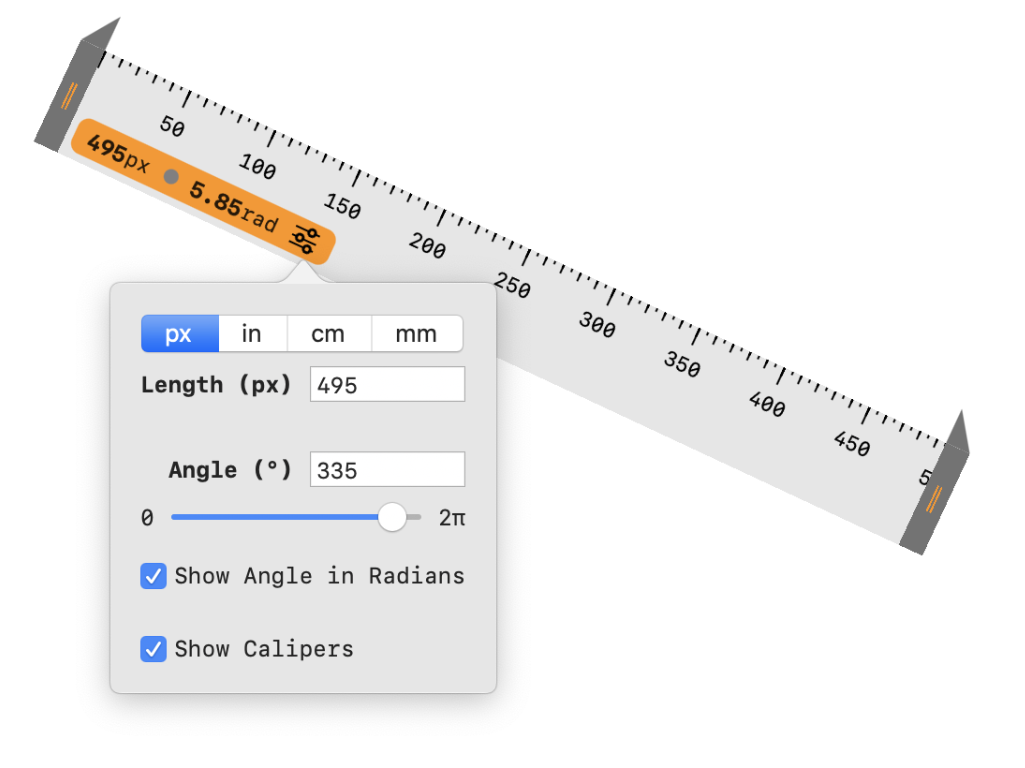 Make it 4
Open up to 4 Rulers simultaneously, each measuring a different aspect of the UI.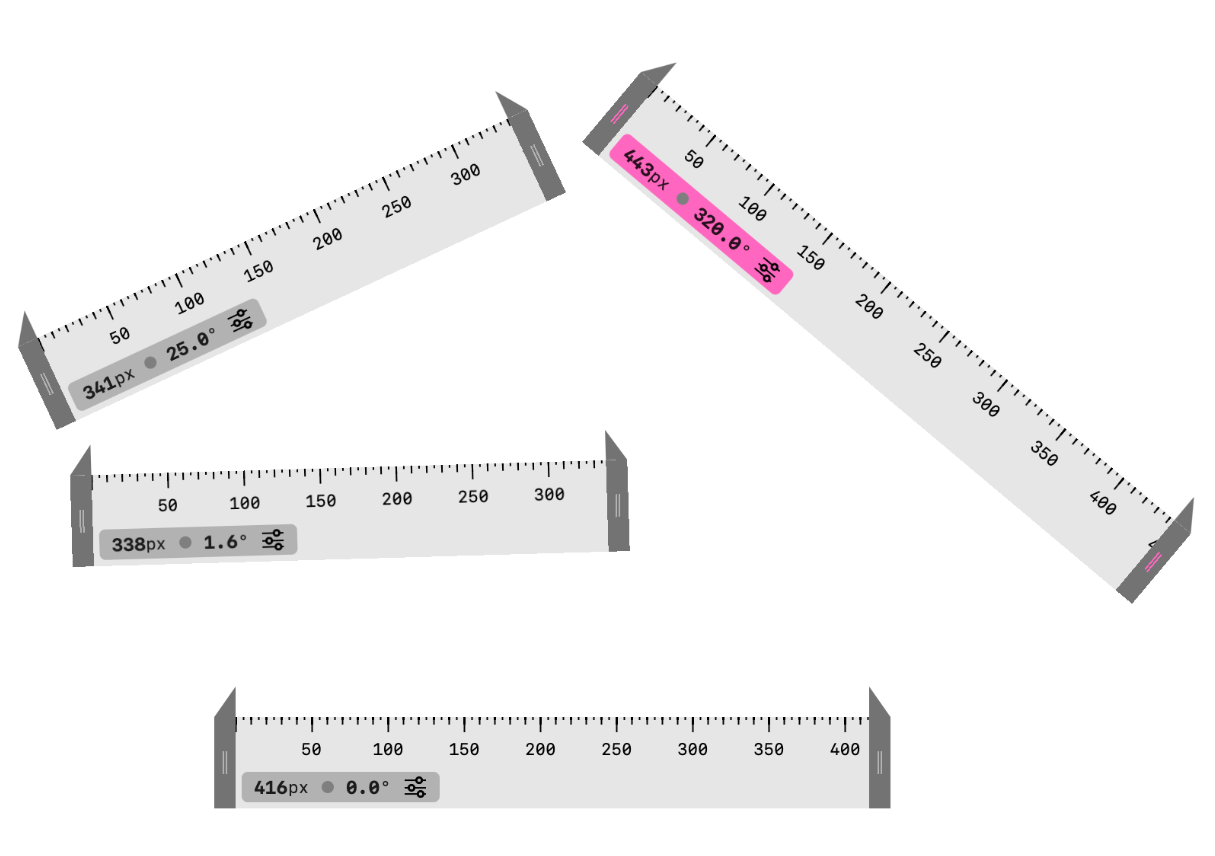 Relative position
When the Ruler is horizontal or vertical, just move your mouse over it to see the relative position.
Frame
Overlay grids on your designs
Frame Everything
Use the Frame tool to check element dimensions, aspect ratios, take snapshots and even capture videos.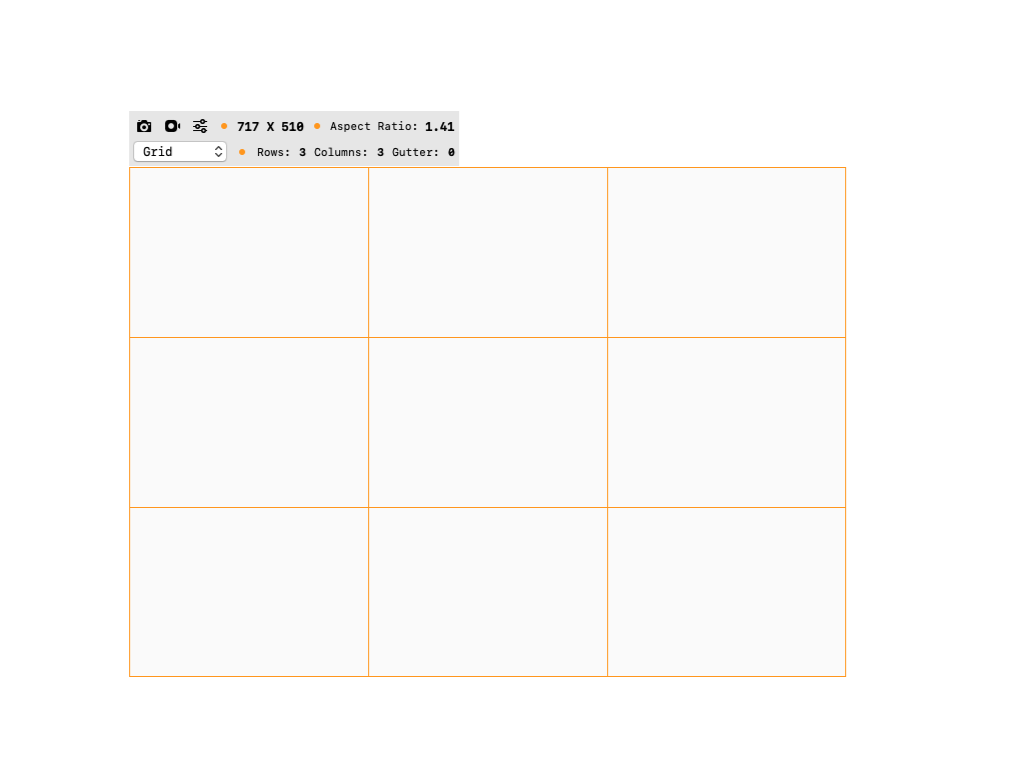 Rows and Columns
Create rows and columns and overlay grids on your designs. There are multiple presets to choose or even create your own.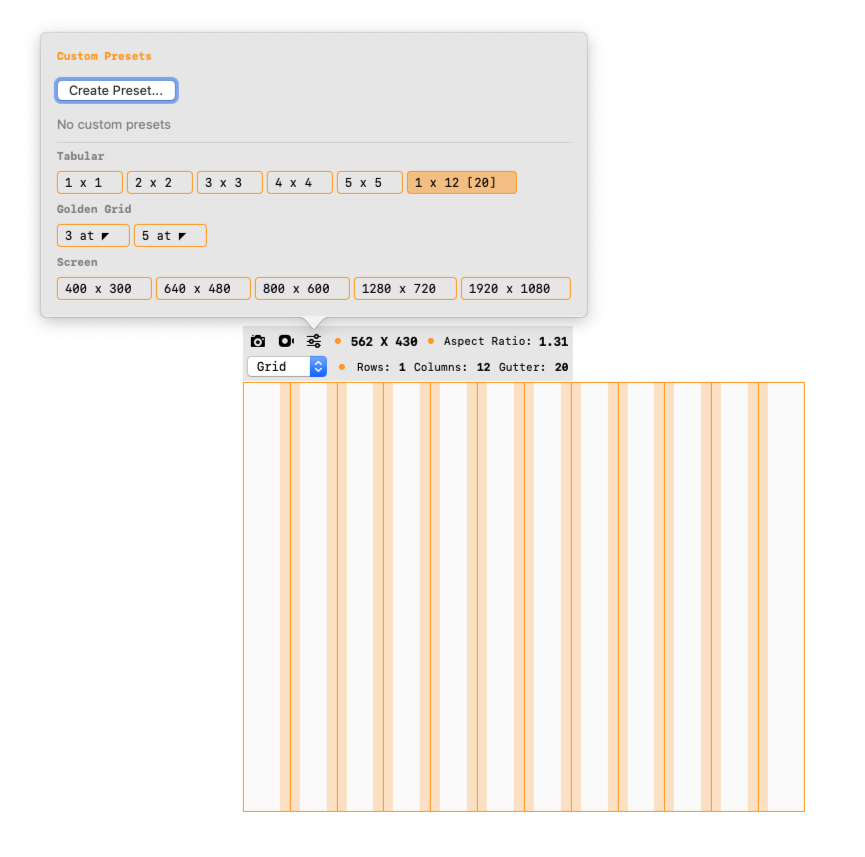 Golden Grids
Check the spatial distribution with Golden Grids. You can control the number of divisions and even flip around the corners.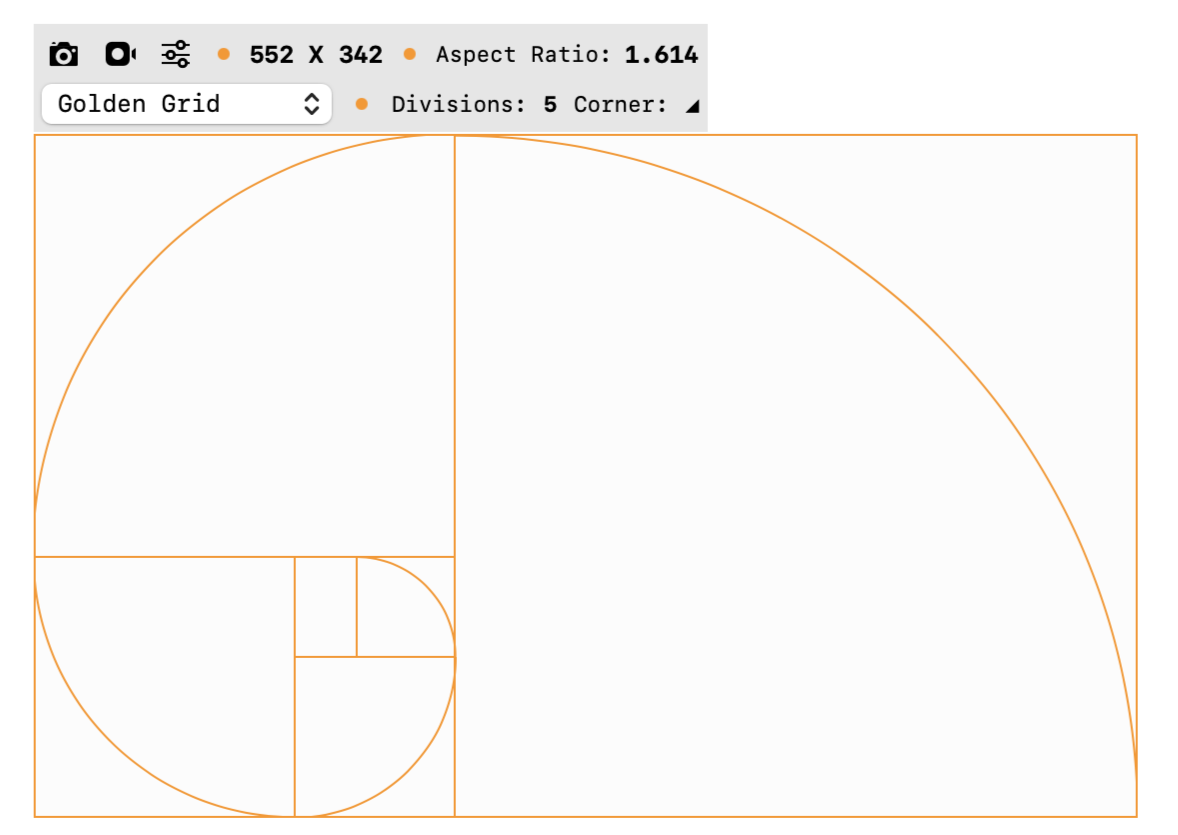 Guide
Like Photoshop® guides, but anywhere on your desktop
Check Layouts
Setup vertical and horizontal guides to check layouts of websites and apps. You can setup guides per monitor.
Guides also double up for checking alignments.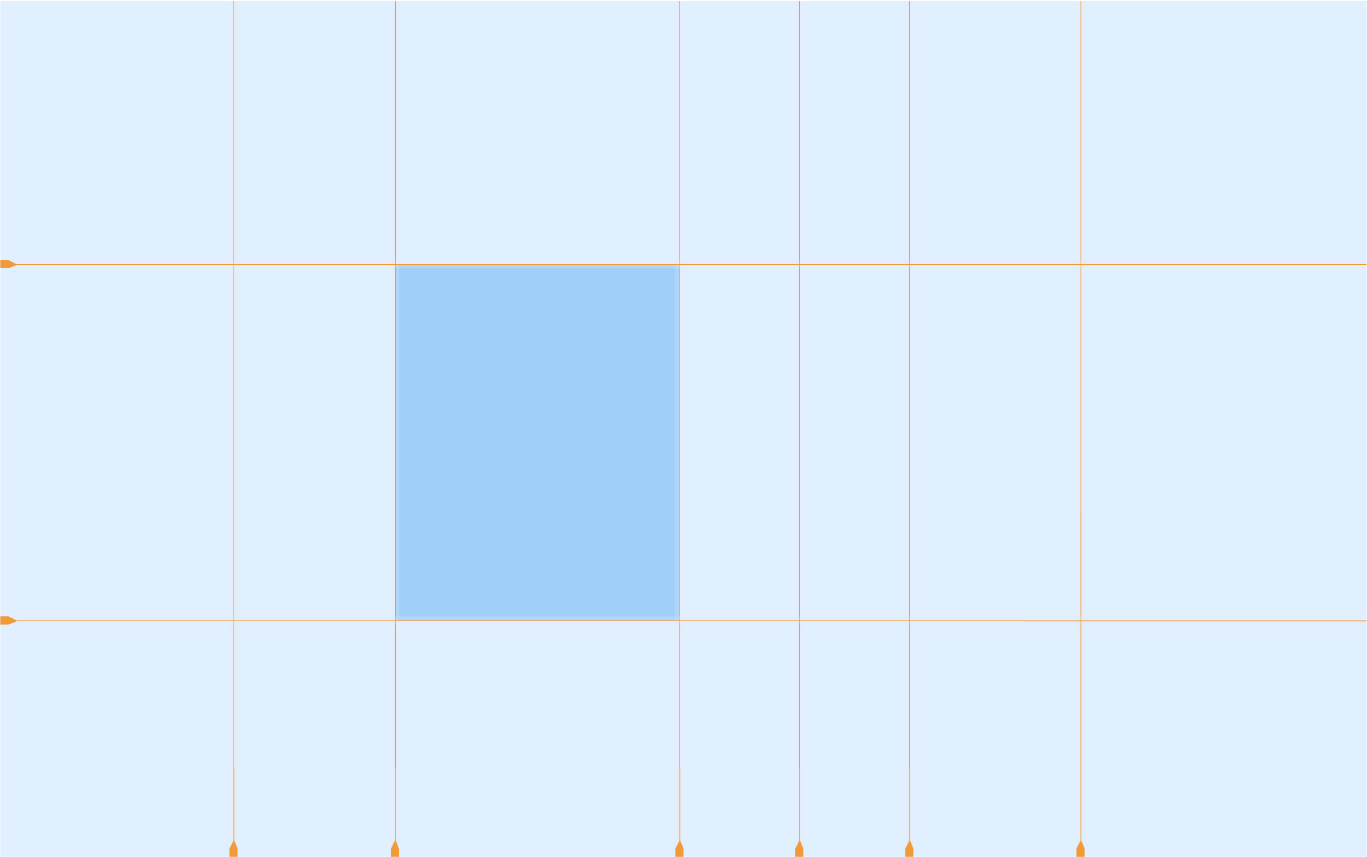 Manage with the Guide Panel
Use the guide panel to quickly add, remove and distribute guides. It even shows the guide counts as you move between monitors.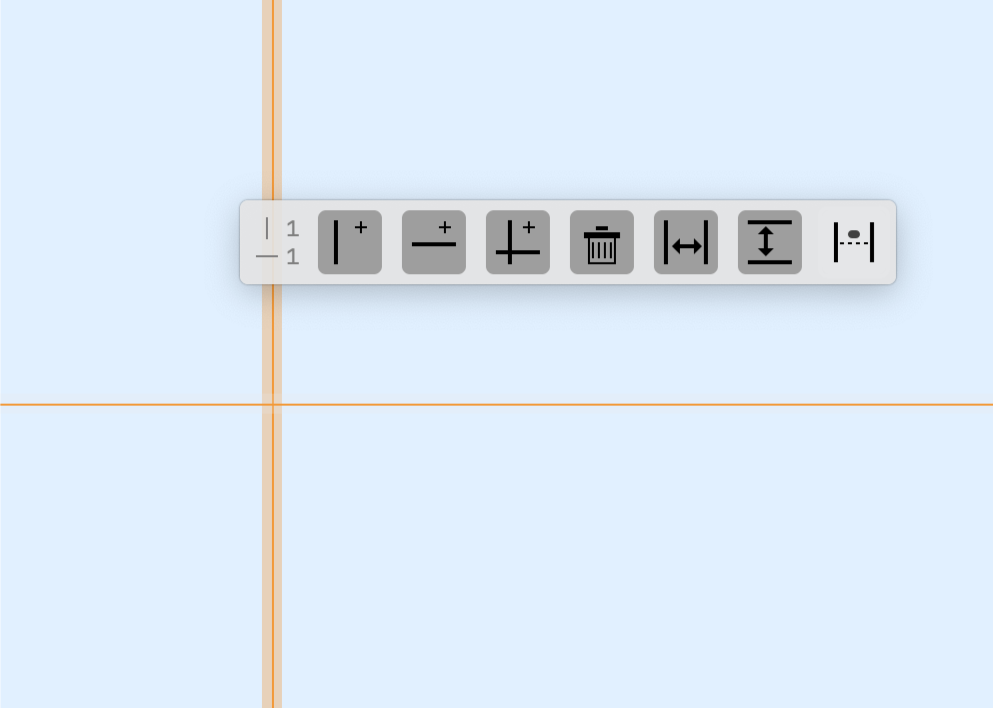 Select, Lock, Snap
Guides can be individually selected for batching actions like locking, deletion, moving. Lock guides to ensure you don't move them accidentally.
You can also snap guides to nearby edges on the screen.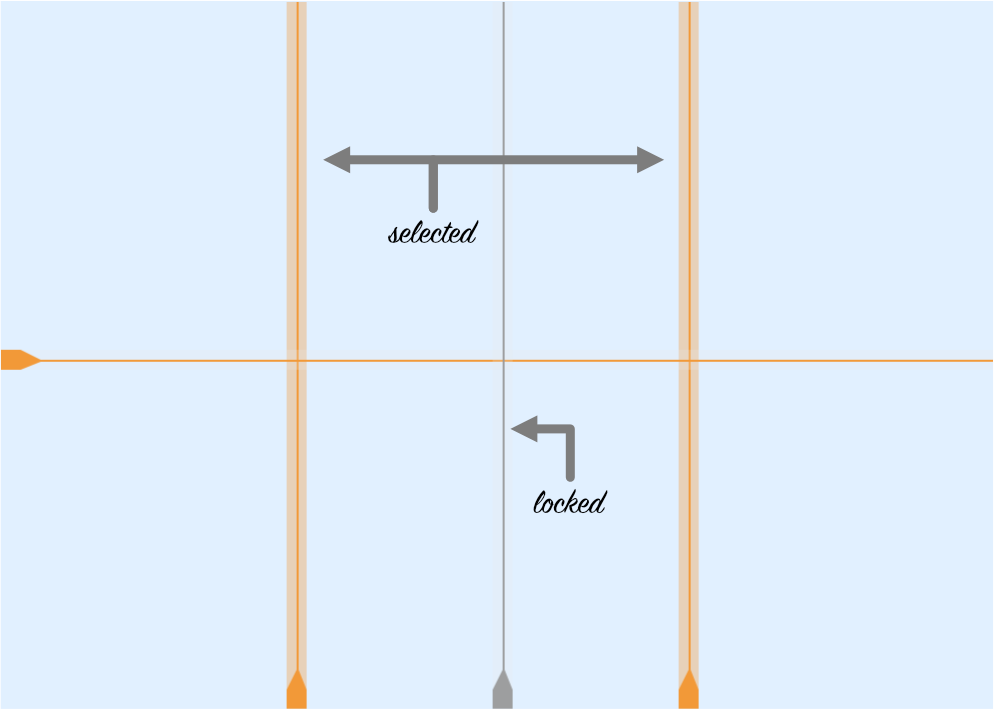 Distance between guides
With a handy shortcut, you can toggle the distances between guides. It's useful when you want to be precise with your gaps.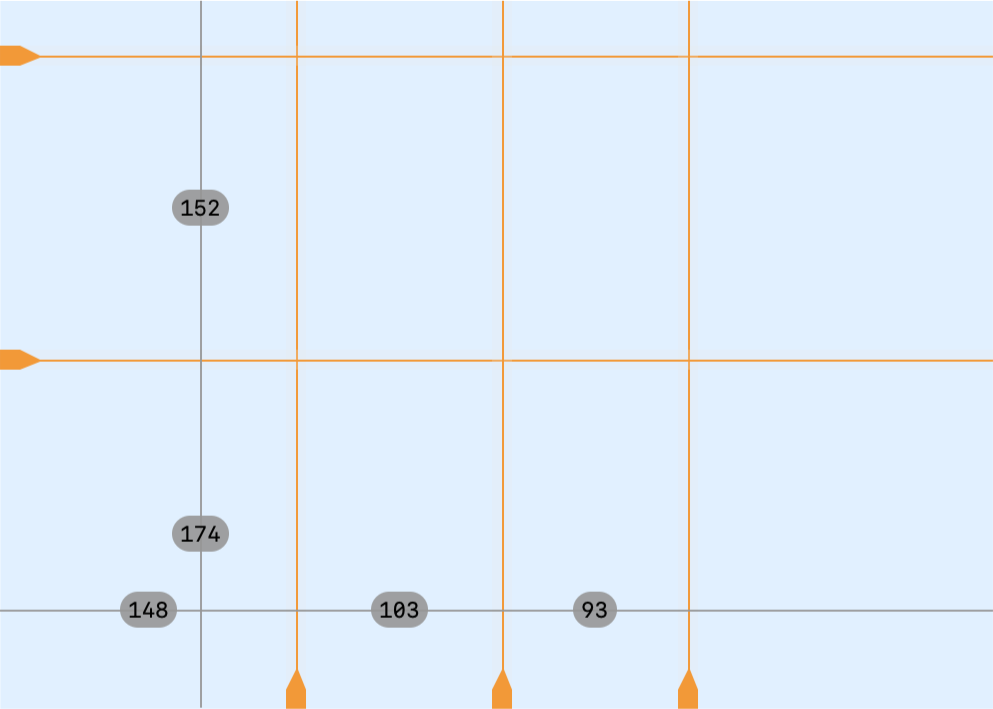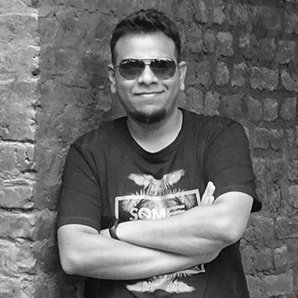 Giri Jeedigunta
Full-Stack Architect
Bengaluru, India
I've been using QuickLens app for sometime now and I'm in total awe of how incredibly useful this tool is. The precision it gives in measuring the elements on the screen, the finesse and control I get with QuickLens is simply superb. Ruler, Frame, Guides are something I'm using daily for designing and developing apps.
Monocle
A mini-Lens
Works like a mini-Lens tool that moves with the cursor. Zoom from 1X to 32X.
See the color under cursor and the familiar pixel-grid, all with handy shortcuts.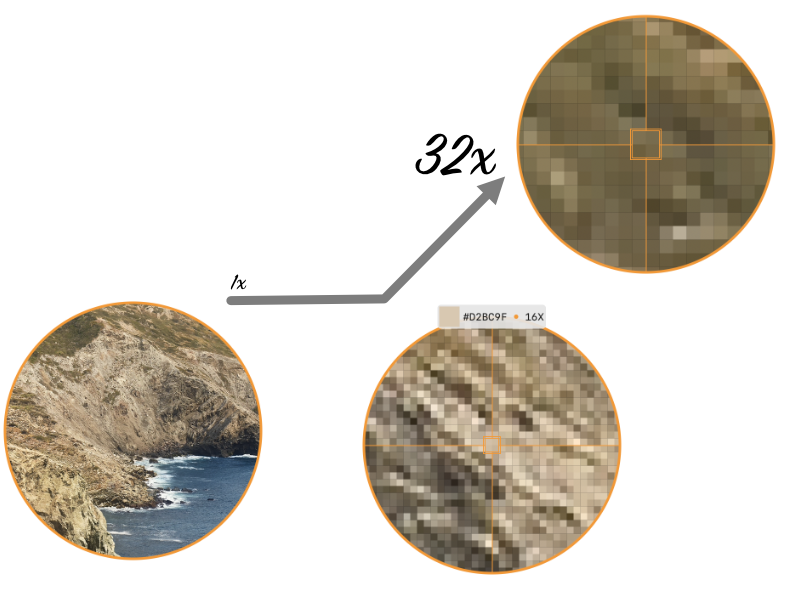 Various shapes
Easily switch between the Rectangle, Circle and Square shapes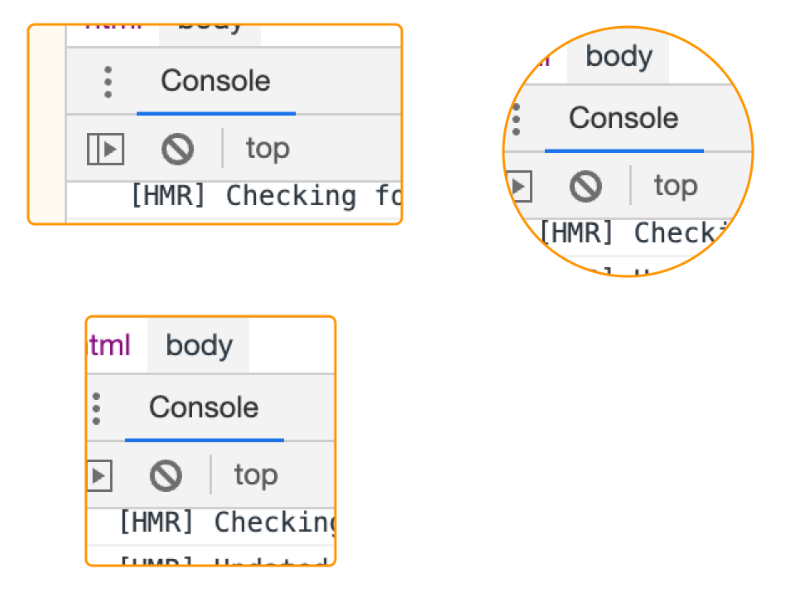 Dimming outside the Monocle
Dim rest of the desktop to spotlight just the monocle area. It's perfect for a quick
focused
presentation to your team.
Various sizes
Several sizes to focus on the area you desire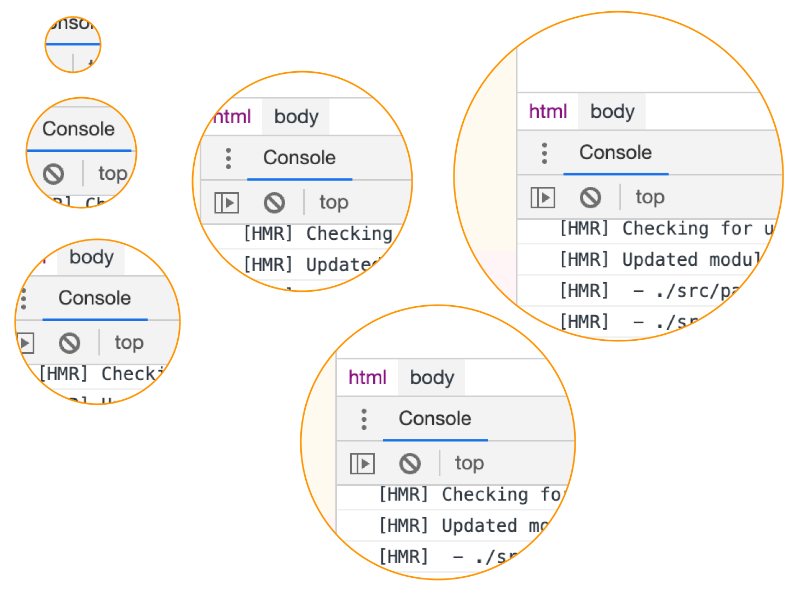 Crosshair
Check alignments, real-time dimensions or just your mouse-location
Alignments and Location
Use the crosshair mode to check for alignments or just the location on-screen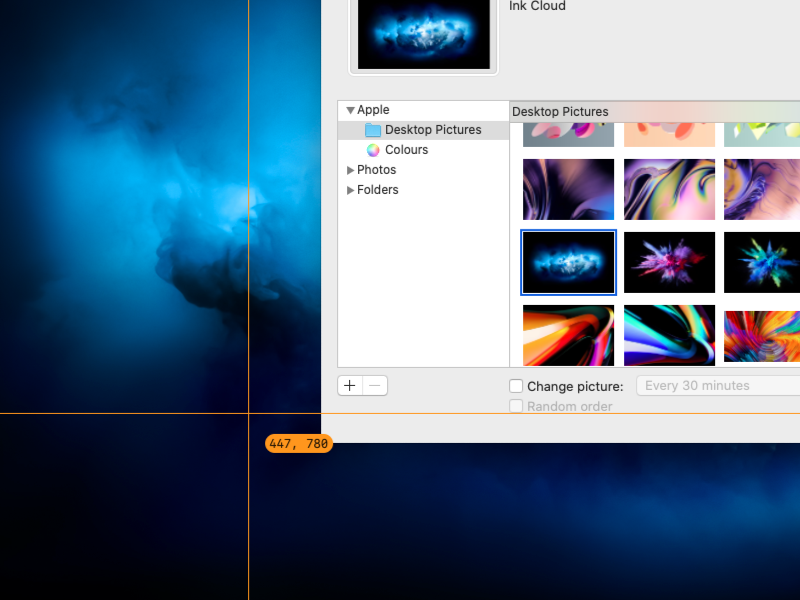 Real-time distances
Measure distances between UI elements in real-time
Bounding Box
Just drag on the screen to find out the bounding box for the UI elements
Batteries included
There is more to QuickLens to improve your everyday usage and convenience.
Color, Light & Dark
Switch between various color themes for the tools. Light and Dark modes included.

Shortcuts Viewer
The tools are loaded with handy shortcuts. Master them with the shortcuts-viewer.
You can also view these as a HTML sheet.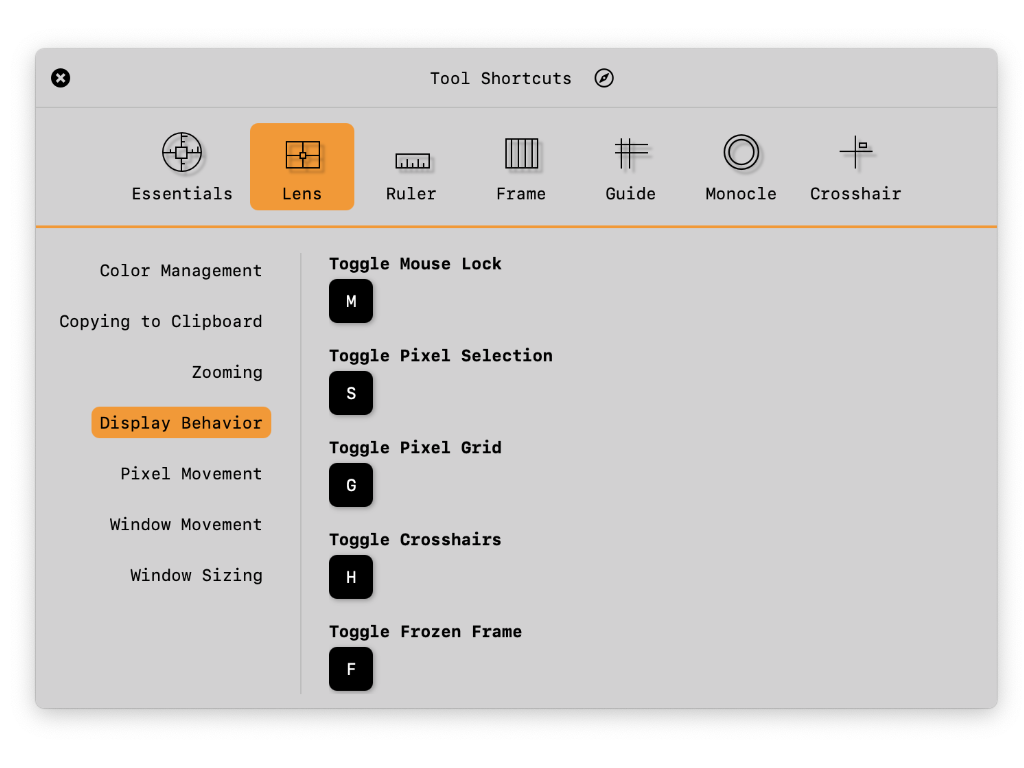 Tool Palette
One palette to rule them all — the Tool palette is your central command center.
It can be used to launch and close tools, change color themes and light/dark modes.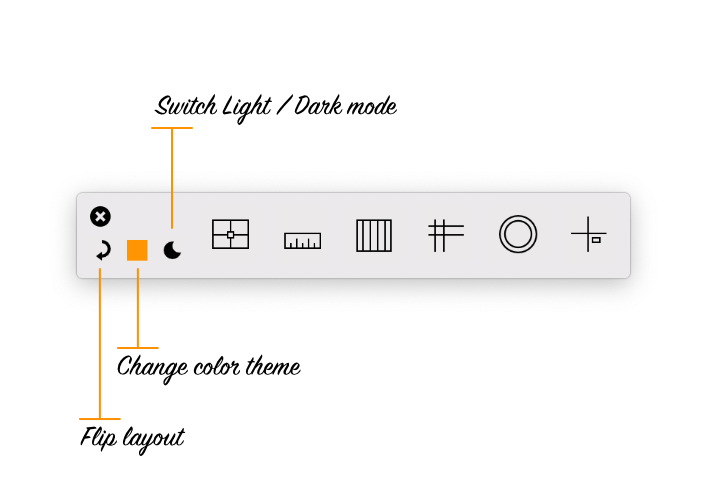 A Touch away
There is full Touch Bar support for all tools and windows. Sometimes its easier and faster with a Touch!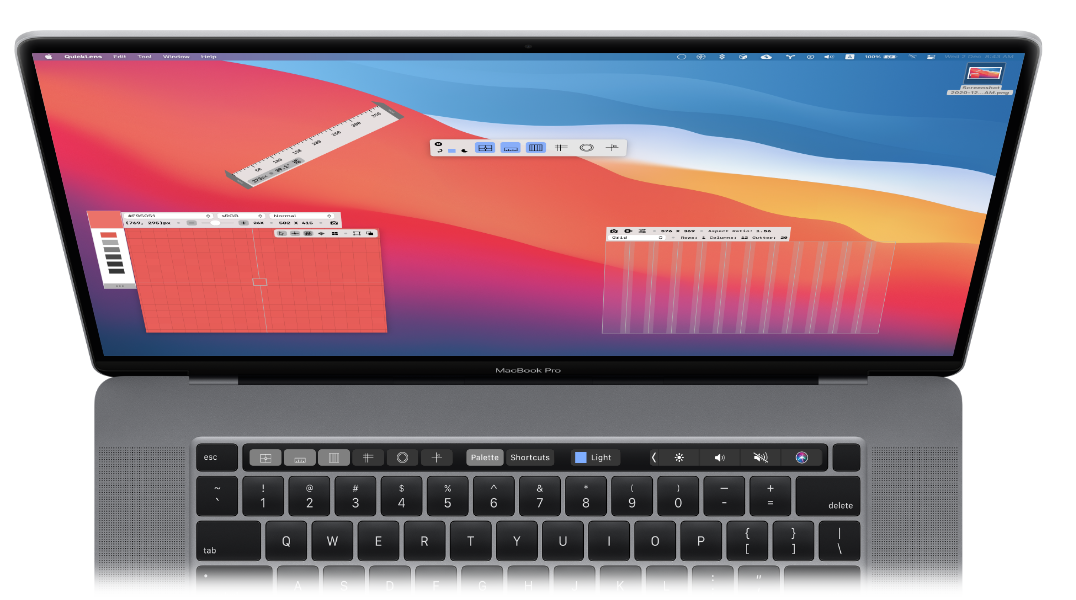 At the core
Designed using the latest macOS* Technologies.
* Requires macOS 10.15+
SwiftUI

Using SwiftUI across the board for the most modern macOS experience

Multi-Monitor

Use just on your laptop or connect as many monitors as you want

Touch Bar ready

Control the tools even from the Touch Bar

Retina Ready

Retina Ready for the best possible display

Notifications

Notifications for all the important operations

Keyboard Shortcuts

Rich Keyboard support to control every action. Global hotkeys too.

Themes

Switch Themes on the fly with a handy shortcut
Inspect the
UI

— like a

PRO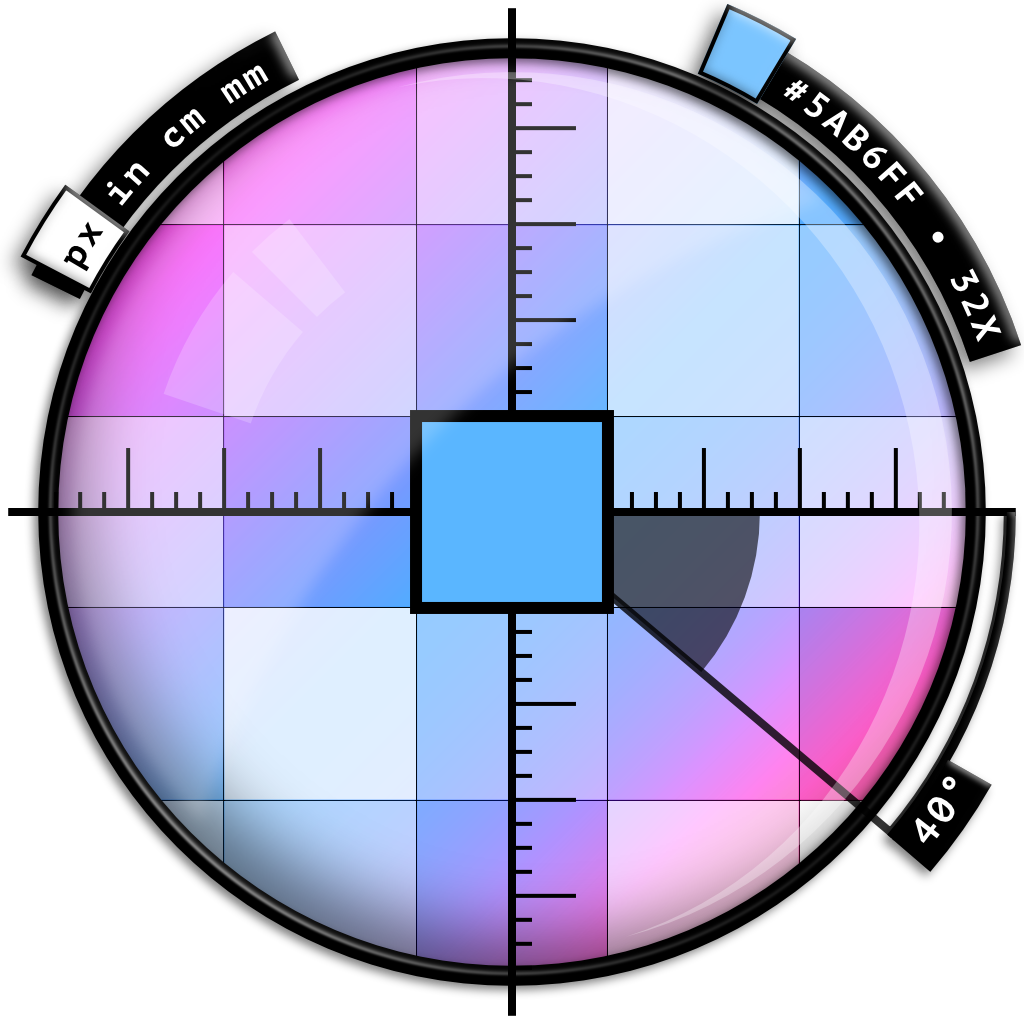 QuickLens

is a powerful macOS App for getting deeper into the

UI

and ensuring every pixel comes out right. And, doing it all, like a

PRO

!

OR
* Requires macOS 10.15+
Also available on Setapp